Upcoming Events & Specials
Welcome to
Princeton Book & Bible
405 1st St
Princeton, MN 55371
Princeton Book & Bible
More than a Book Store
763-389-1499

"Let not your heart be troubled; you believe in God, believe also in ME." John 14:1 NKJV
God has in these last days spoken to us by His Son, whom He has appointed heir of all things,
through whom also He made the worlds; Hebrews 1:2
Hours: Monday-Friday 9am-6pm ~ Saturday 9am-4pm ~ Sunday Closed
Book Imprinting - Wednesdays
Feel free to contact us at any time for more informationon on any of these events 763-389-1499 or info@princetonbookandbible.com
Book Imprinting - Wednesdays

Happy Fall!
Browse through our NEW unique, inspiring,
Thanksgiving & Fall home decor friendly gifts.

Pumpkin Blessings are Back!
Find a pumpkin hidden around the store and receive the discount, 5-25%, off the purchase of a non-sale item. Willow Tree excluded.

Check it out - New:
T-Shirts & Hoodies for Men & Women, Boxed Thanksgiving Cards, New Fall Decor, Halloween Tracks, New selection of Cookbooks and Recipe Books.
Don't forget, we do FREE gift wrapping!

Around Town:
OctoberFeast - Sat. Oct. 2, 11am - 3pm
MilleLacs County Fairgrounds
Connections Memory Cafe - Thurs., Oct. 7
1st Thurs of Month - North Civic Center
God Is Greater - Sun., Oct. 31, 6 - 8:30pm
New Life Church - 763-631-4858

Recommended Reading/Watching:
When A Nation Forgets God - by Erwin Lutzer
7 Lessons we must learn from Nazi Germany.
DVD - The Chosen - Season 1 $29.99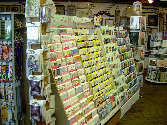 Thank You for shopping at Princeton Book & Bible!
Receive credit for every $10 spent in the store. When your "Thank-You" card is filled, it is worth $10 toward your next purchase.