Upcoming Events & Specials
Welcome to
Princeton Book & Bible
405 1st St
Princeton, MN 55371
Princeton Book & Bible
More than a Book Store
763-389-1499

"Let not your heart be troubled; you believe in God, believe also in ME." John 14:1 NKJV
God has in these last days spoken to us by His Son, whom He has appointed heir of all things,
through whom also He made the worlds; Hebrews 1:2
Hours: Monday-Friday 9am-6pm ~ Saturday 9am-4pm ~ Sunday Closed
Book Imprinting - Wednesdays
Feel free to contact us at any time for more informationon on any of these events 763-389-1499 or info@princetonbookandbible.com
Book Imprinting - Wednesdays

Happy Spring!
Browse through our unique, inspiring Home Decor and garden friendly gifts. Not to early to think about Mother's Day! Besides Easter we have gifts and cards for
1st Communion & Confirmation.

Check it out:
Easter related activities for kids, Easter inspired cookie cutters, Boxed 1st Communion & Confirmation Cards.
Mother's Day Gifts - Birthstone Cross necklaces,
Hand warmer mugs, Inspirational tote bags.
Don't forget, we do FREE gift wrapping!

Check Out Our Sale Room!
New items recently added.

Around Town
Tri-Cap Public Transportation- City Bus Service
9 am - 2:45 pm. Call for information 888-765-5597

Recommended Reading/Music:
The Feeler - by James W. Goll
Discovering how sensitivity helps you discern
and act on God's Voice.

CD - Chris Tomlin & Friends $11.99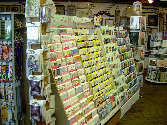 Thank You for shopping at Princeton Book & Bible!
Receive credit for every $10 spent in the store. When your "Thank-You" card is filled, it is worth $10 toward your next purchase.