Upcoming Events & Specials
Welcome to
Princeton Book & Bible
405 1st St
Princeton, MN 55371
Princeton Book & Bible
More than a Book Store
763-389-1499

"Let not your heart be troubled; you believe in God, believe also in ME." John 14:1 NKJV
God has in these last days spoken to us by His Son, whom He has appointed heir of all things,
through whom also He made the worlds; Hebrews 1:2
Hours: Monday-Friday 9am-6pm ~ Saturday 9am-4pm ~ Sunday Closed
Book Imprinting - Wednesdays
Feel free to contact us at any time for more informationon on any of these events 763-389-1499.
Book Imprinting - Wednesday

Father's Day - June 18
Don't forget that special "Dad" (husband, father, grandfather). Besides a variety of cards, we have a large assortment of gifts for you to choose.

First Day of Summer - June 21

We carry a great selection of gifts and cards for
1st Communion and Confirmation.
We do free gift wrapping with your purchase.

Community Happenings:
Cicle of Hope - People helping People
1st Thurs. of every month - 6 pm FREE meal!
Zion Lutheran Church, Milaca

Unshackled - Women's Bible Study
Friday's @ 11:30 am Roelof's Home
Lunch & Childcare Provided. Questions? 612-390-5964

Rum River Festival June 7 - 11.
Look for coupon's in Town & Country Shopper!

Recommended Reading:
Does Your Tongue Need Healing? by Derek Prince. Every Christian knows they should control the tongue. This book provides the reader with steps to discipline the tongue.

Bible - We should read and study the Bible because it is God's Word to us.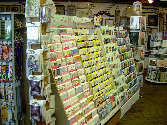 Thank You for shopping at Princeton Book & Bible
Receive credit for every $10 spent in the store. When your "Thank You" card is filled, it is worth $10 toward your next purchase.
See more Princeton events:
www.calendarprinceton.com