Upcoming Events & Specials
Welcome to
Princeton Book & Bible
405 1st St
Princeton, MN 55371
Princeton Book & Bible
More than a Book Store
763-389-1499

"Let not your heart be troubled; you believe in God, believe also in ME." John 14:1 NKJV
God has in these last days spoken to us by His Son, whom He has appointed heir of all things,
through whom also He made the worlds; Hebrews 1:2
Hours: Monday-Friday 9am-6pm ~ Saturday 9am-4pm ~ Sunday Closed
Book Imprinting - Wednesdays
Feel free to contact us at any time for more informationon on any of these events 763-389-1499.
Book Imprinting - Wednesday

Happy 4th of July!
We are closed Tuesday, July 4th. No Plans? Check out The Shane Martin Band & Fireworks.
7-10 pm Mille Lacs County Fairgrounds

We carry a great selection of gifts and cards for
the Graduate in your life.
We do free gift wrapping with your purchase.

Community Happenings:
Princeton Community Center Presents:
Disney's Aladdin
Friday, July 21, 7 pm PAC
Limited tickets available at the door.

Unshackled - Women's Bible Study
Friday's @ 11:30 am Roelof's Home
Lunch & Childcare Provided. Questions? 612-390-5964

Tuesday's In The Park
Summer Concert Series. Tuesday's, July 11 - August 29
6-7 pm Mille Lacs Historical Depot - FREE!

Recommended Reading:
UNASHAMED by Christine Caine. If the enemy's weapons of choice are shame and fear, then think of UNASHAMED as a heavenly atomic bomb.

Bible - We should read and study the Bible because it is God's Word to us.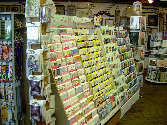 Thank You for shopping at Princeton Book & Bible
Receive credit for every $10 spent in the store. When your "Thank You" card is filled, it is worth $10 toward your next purchase.
See more Princeton events:
www.calendarprinceton.com