Upcoming Events & Specials
Welcome to
Princeton Book & Bible
405 1st St
Princeton, MN 55371
Princeton Book & Bible
More than a Book Store
763-389-1499

"Let not your heart be troubled; you believe in God, believe also in ME." John 14:1 NKJV
God has in these last days spoken to us by His Son, whom He has appointed heir of all things,
through whom also He made the worlds; Hebrews 1:2
Hours: Monday-Friday 9am-6pm ~ Saturday 9am-4pm ~ Sunday Closed
Book Imprinting - Wednesdays
Feel free to contact us at any time for more informationon on any of these events 763-389-1499 or info@princetonbookandbible.com
Book Imprinting - Wednesdays

Happy Summer and Father's Day - June 20!
We have a great selection of gifts & cards for Father's Day! Don't forget the Graduate,we have unique gifts and cards for them as well.

Check it out:
New: Forever in my Heart Charms, Gifts
and cards for the Graduate.
Gifts for the special Dad in your life:
Double Walled Water Bottle.
Be Strong in the Lord Stainless Steel Mug w/lid.
Devotions of Wisdom & Strength for Men.
Don't forget, we do FREE gift wrapping!

Around Town
2021 Rum River Festival - June 10-12
princetonmnchamber.org for details.

Tri-Cap Public Transportation- City Bus Service
9 am - 2:45 pm. Call for information 888-765-5597

Recommended Reading:
The Living Table - by Abby Turner
Abby shares a straightforward, practical
approach to serving others.

CD - The Blessing by Kari Jobe $9.99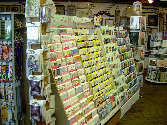 Thank You for shopping at Princeton Book & Bible!
Receive credit for every $10 spent in the store. When your "Thank-You" card is filled, it is worth $10 toward your next purchase.