Upcoming Events & Specials
Welcome to
Princeton Book & Bible
405 1st St
Princeton, MN 55371
Princeton Book & Bible
More than a Book Store
763-389-1499

"Let not your heart be troubled; you believe in God, believe also in ME." John 14:1 NKJV
God has in these last days spoken to us by His Son, whom He has appointed heir of all things,
through whom also He made the worlds; Hebrews 1:2
Hours: Monday-Friday 9am-6pm ~ Saturday 9am-4pm ~ Sunday Closed
Book Imprinting - Wednesdays
Feel free to contact us at any time for more informationon on any of these events 763-389-1499.
Book Imprinting - Wednesday

Significant Dates:
September 4 - Labor Day - Closed
September 5 - School Starts
September 10 - Grandparents Day
September 22 - Fall Begins
September 23 - Chili Fest
September 27 - See You at the Pole

New in the Store
AHAVA- Active DeadSea Mineral skincare products
Gardens by Grace - Herbel Tea

Community Happenings:
St. John Fall Festival - Zimmerman
Sat., Sept. 9 - 9 am - 3 pm

Fall Craft Night - Fairview Northland Med. Center
Thurs., Sept. 21 - $40
Proceeds support Fairview Northland student scholarship program.

Chili Fest - Mille Lacs Fair Grounds
Sat., Sept. 23 Crafts, Chili, Salsa & more.
princetonchamber.org

Recommended Reading:
A Woman Overwhelmed by Hayley DiMarco

Bible - We should read and study the Bible because it is God's Word to us.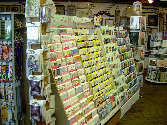 Thank You for shopping at Princeton Book & Bible
Receive credit for every $10 spent in the store. When your "Thank You" card is filled, it is worth $10 toward your next purchase.
See more Princeton events:
www.calendarprinceton.com