Upcoming Events & Specials
Welcome to
Princeton Book & Bible
405 1st St
Princeton, MN 55371
Princeton Book & Bible
More than a Book Store
763-389-1499

"Let not your heart be troubled; you believe in God, believe also in ME." John 14:1 NKJV
God has in these last days spoken to us by His Son, whom He has appointed heir of all things,
through whom also He made the worlds; Hebrews 1:2
Hours: Monday-Friday 9am-6pm ~ Saturday 9am-4pm ~ Sunday Closed
Book Imprinting - Wednesdays
Feel free to contact us at any time for more informationon on any of these events 763-389-1499.
Book Imprinting - Wednesday
Significant Dates:
November 5 - Daylight Savings Time Ends
November 7 - Election Day
November 11 - Veterans Day
November 23 - Thanksgiving - Closed
November 25 - Small Business Sunday - SHOP LOCAL!

Pumpkin Blessings
Find a pumpkin hidden around the store until Nov. 30 to receive the discount listed on the bottom. 5-25% off purchase of non-sale items, Willow Tree excluded. One discount per purchase.

New in the Store
Thanksgiving Items - Napkins, Cards & Gifts
Christmas Preview & Hand Warming Mugs

Community Happenings:
Annie - Performing Arts Center, Princeton High School
Nov. 3,4,5 & 10,11,12 Fri. & Sat. 7:30 pm; Sun. 2 pm
Adults $6 Youth $4.

Out of the Shadows - The Bridge Outrech, Cambridge
Women finding freedom through Biblical answers.
Mondays until Dec.4, 7-9 pm $10 for materials
Call Mary to register 763-689-5880

Recommended Reading:
Praying Through the Names of God by Tony Evans

Bible:We should read the Bible daily, it is God's Word.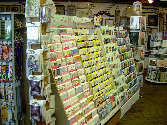 Thank You for shopping at Princeton Book & Bible
Receive credit for every $10 spent in the store. When your "Thank You" card is filled, it is worth $10 toward your next purchase.
See more Princeton events:
www.calendarprinceton.com